Art Cullen's Pulitzer was a triumph of brave, honest reporting overcoming powerful corporate interests.
Photo by Mark Brown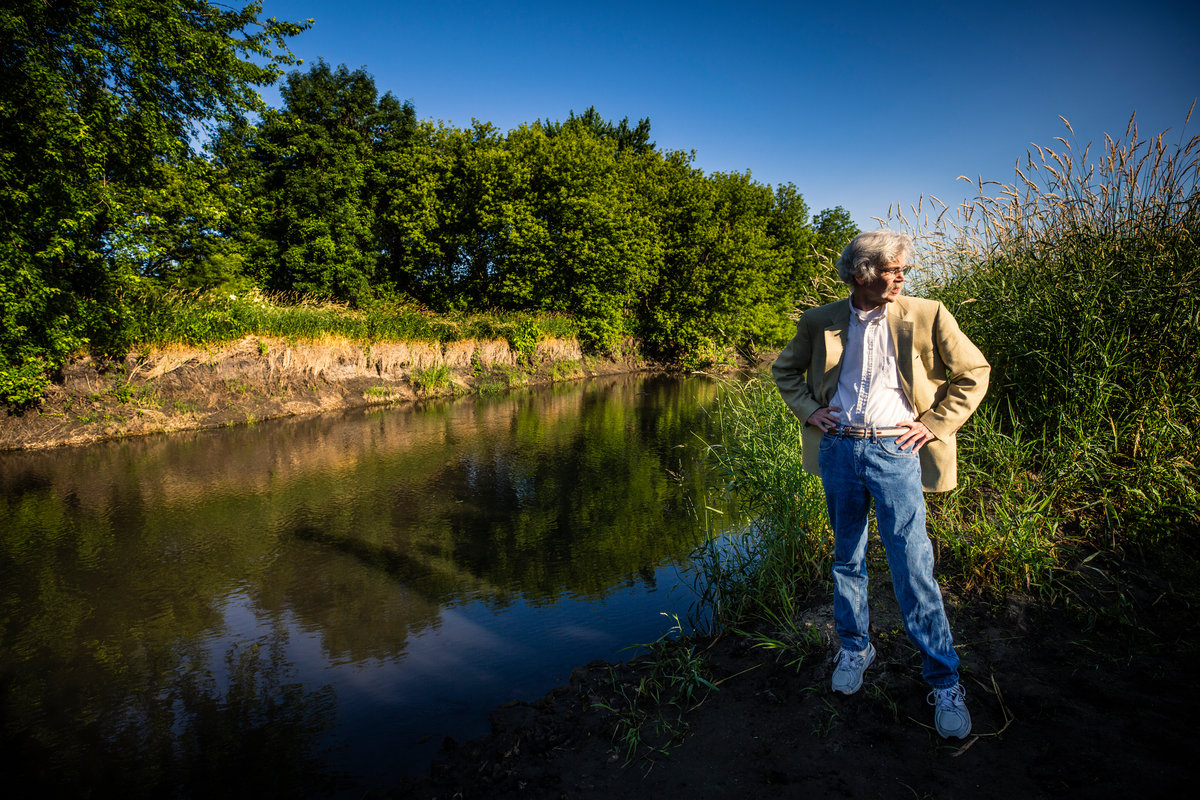 Art Cullen is a Pulitzer Prize-winning journalist, editor of The Storm Lake Times (a family-run weekly newspaper in small-town Iowa), and author of the new book, Storm Lake: A Chronicle of Change, Resilience, and Hope from a Heartland Newspaper.
Art has made it his life's work to ask the big questions, speak truth to power, and share the struggles and successes of his unique community of Storm Lake, Iowa (Census pop. 10,076). His new book is part cultural history, part memoir — it explores the themes of family, community, immigration and diversity, the meaning of home, and the Heartland's turbulent history and promising progressive future.
Drawing from the stories of one special small town on the "broken prairie," and his family's perspectives from their small-town newspaper business, Art hopes to inspire a broader sense of dialogue, renewal and understanding of rural places.
In politically divisive times, when Americans from Red States and Blue States often feel estranged from each other, Art Cullen's book attempts to show an optimistic way forward — that there is still abundant hope in the Heartland.
This is a book that America needs now, written by a small-town newspaper editor who has earned journalism's highest honor.
Art did what he believed was right, and was rewarded with journalism's highest honor.
Art Cullen's new book, Storm Lake: A Chronicle of Change, Resilience, and Hope from a Heartland Newspaper, (coming October 2, 2018) is a culmination of his 38 years of professional experience as a reporter, editor, observer and inquisitor of life in the Heartland. In the tradition of What's the Matter With Kansas? and White Trash, Cullen has written a one-of-a-kind story of the Heartland's turbulent past and promising future — illustrating the intrinsic decency and surprisingly progressive potential of this often overlooked and misunderstood region. If you're looking for progressive signs of hope in Trump's America, you can find them in Storm Lake.
Part memoir, part cultural history, Storm Lake is a story of how the rural Midwest has been washed out over the past 40 years — family farms disappearing to the consolidation of industrial agriculture; small towns bleeding jobs and population; a once-comfortable way of life supplanted by low-wage meatpacking jobs, environmental degradation, and a cultural sense of loss and upheaval. It's a story of how the Farm Crisis ("a 1980s rural depression that saw farmers hanging themselves in barns") damaged the economy and psyche of the Midwest in ways that many communities have still not recovered from, about the Red and Blue roller coaster of Iowa politics and how right-wing anti-immigrant voices like Congressman Steve King became a harbinger for the rise of Donald Trump. It's a story about family and community and survival, and how climate change now threatens all that the Heartland has built — and the very notion of food security in America.
But it's not just a story of struggle — it's a story of successes and surprising sources of optimism for those who still believe in the promise of America. The small town of Storm Lake emerges, vividly described as a surprisingly diverse and progressively minded place, with a dynamic and growing community enhanced by immigration from Mexico, Laos and other countries. It's a story of how immigration revitalizes America culturally and spiritually, and how a small newspaper plays its role in investigating, explaining and sharing the life of the community around it.
Anyone who wants to feel a new sense of optimism and find fresh insights about where America's Heartland has come from — and how a more inclusive, authentic populism could be the guide to a progressive resurgence in rural America — must read Storm Lake.
"An impassioned, significant book from a newsman who made a difference."
—Kirkus Reviews (starred)
"[A] memoir that gracefully illuminates the challenges facing the American heartland. Composed of political history, tales of civic controversies, and human interest stories, the subject matter is elevated by Cullen's passion into parables relevant to all Americans…a window into small-town America."
—Publishers Weekly
"Mechanization may have driven out small farmers, smothered the lake, and helped push the town paper to the edge of starvation, but Storm Lake has persevered, clutching its social fabric against the forces that have torn so much of the rural plains asunder. If you care about the future of the Republic, Art Cullen's thoughtful, clear-eyed ode to his western Iowa hometown is not to be missed."
—Colin Woodard, author of American Nations: A History of the Eleven Rival Regional Cultures of North America and American Character: A History of the Epic Struggle Between Individual Liberty and the Common Good
"This is a cry from the heart from the heartland, and it is for those people on the coasts who think nothing important happens in the middle of the country. In fact, everything important that is happening pretty much anywhere in the country happens there — right there, around Storm Lake, in Iowa."
—John M. Barry, author of The Great Influenza and Rising Tide
"Read this book and you will understand why Art Cullen's courageous writing — sensitive, challenging, sometimes abrasive — helped build Storm Lake into, as Cullen phrases it, 'a community, not just an unrelated gathering of people.' Cullen captures, in prose that is almost poetry, the ethos of small town, rural Iowa, the heart and soul of the 'good America.'"
—Tom Harkin, former United States Senator from Iowa
"An engaging storyteller, Cullen recounts the deeds (and misdeeds) of youth, but his writer's passion shines when he discusses the events that led him to write the prize-winning editorials…The moral, economic, and social history of a small town in Iowa might not seem like much of a story, but in Cullen's hands, it is."
—Booklist
"Art Cullen does not believe in the notion of fly-over country. He knows that Storm Lake is a place where hard working and community-minded people live, work, and play. He believes strongly that Storm Lake is worth writing about and fighting for, and you will too after reading Storm Lake."
—Tom Vilsack, former Governor of Iowa
"Pulitzer Prize winner Art Cullen embodies what community journalism is all about, which is an understanding — even love — of place and people, a determination to make things better and the backbone to challenge powerful interests. Cullen knows Iowa and a lot more. This book will delight you and inform you and surprise you. It will also give you hope. At a time when press freedoms are threatened and facts are in dispute, it is good to know that Cullen and his compatriots are standing guard."
—Dan Balz, Chief Correspondent, Washington Post, and author of the New York Times bestseller Collision 2012
"STORM LAKE: A Chronicle of Change, Resilience, and Hope from a Heartland Newspaper"
by Art Cullen
Buy the book
Blog
Stay in touch with Pulitzer Prize-winner Art Cullen's latest dispatches — occasional blog articles, updates and columns from The Storm Lake Times.